Digital Product Labs: How Proshore helped sync listings & orders across Etsy & Shopify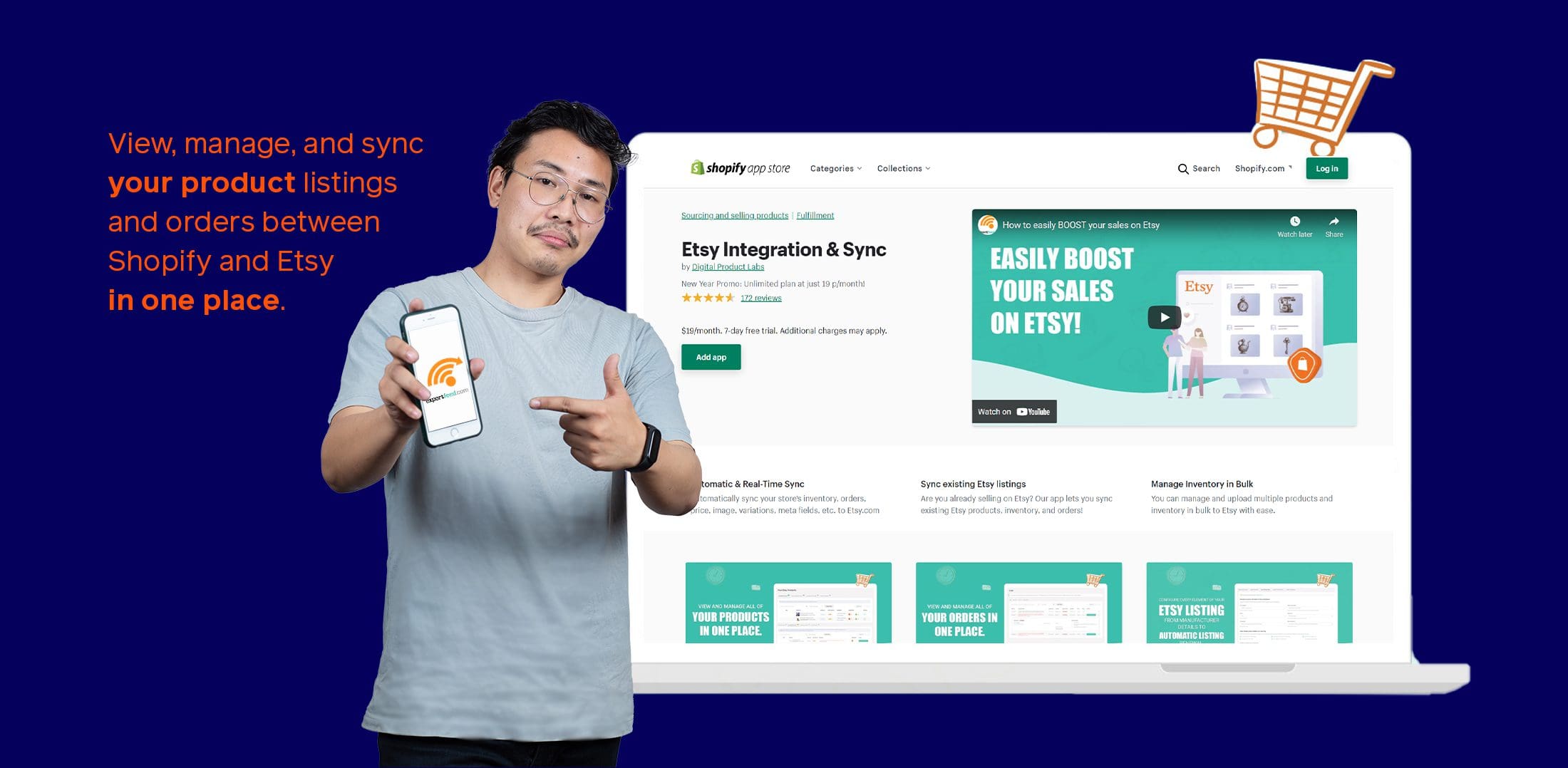 Digital Product Labs: How Proshore helped sync listings & orders across Etsy & Shopify
If you're a manufacturer or retailer with products appearing on a single retail site, then updating your product feeds is a straightforward task. But what if your products appear on multiple merchant sites? Even the smallest retail startup with its own online store is going to want to leverage wider visibility through other merchants.

Regardless of the size of your business or the number of products you offer, going in and manually updating your product feeds for each and every merchant is a time-consuming task to say the least. Thankfully, Digital Product Labs had an idea for an integrated solution, so they called on their sister business, Proshore, to help them make it a reality.
"When you're working with too many merchants, there's a problem. How do you keep track?"
If you want to sell your product online, you're going to need coverage on a merchant platform. In fact, to maximize your visibility, and your sales, you'll want to appear on multiple merchant platforms. But that means entering and updating the same product data multiple times. Or does it?
What if you could have a single point of entry for your product feed data, and sync it across multiple platforms and merchants? This time-saving plug-in means you can edit data from a single site, and it updates all of your connected merchant platforms. That means you can easily sync all of your product feeds at once.
The problem with making a product for everyone is that it ends up being a product for no one. The initial challenge for Digital Product Labs was how to develop a plug-in to simplify the process and solve the problem of updating multiple merchant platforms at once. But they also needed to focus their efforts on an integration that could truly add value for a merchant platform and a retailer.
Combining the popularity of Etsy as a global community of people selling unique and extraordinary goods with the power of Shopify as an all-one-commerce platform seemed to narrow the field just enough to enable Digital Products Lab to produce a worthwhile solution that could genuinely add value for businesses. They particularly liked the philosophy of Etsy, with its focus on handcrafted products made by start-ups and small businesses, and a predominantly female audience.
So, with a renewed focus on Etsy and Shopify, Digital Products Lab enlisted the help of Proshore to create an application programming interface (API) that could sync key information between the two platforms and save merchants time and effort.
With Proshore alongside, Digital Products Lab were able to create an integration that could sync orders, pricing, tax, shipping details – all automated across the two platforms after a one-time set-up.
The benefit of bringing Proshore's 'development team as a service' on board was that the time-to-market was greatly reduced because Digital Product Labs were able to sustainably increase their developer capacity and roll out the product much quicker.
"Right now, our app is being used by more than 1100 merchants… Our growth is led by our tech team and our top-notch support team."
Etsy Integration & Sync launched in 2019 and saw a steady uptake before and during the global pandemic. The app is currently used by over 1100 merchants, and it's growing.
Alongside exceptional customer support, Digital Product Labs offers four different subscription packages to accommodate scaling businesses, based on the number of SKUs and order numbers, so customers can pick the solution that's right for them.
After the success of Etsy Marketplace Integration, Digital Product Labs has recently developed an integration for Shopify and ShareASale, so Shopify businesses can drive growth through affiliate marketing.
Find out more about scaling your software, with a 'development team-as-a-service' from Proshore. Contact us today.
What it's like being a QA Automation Engineer
There are many career paths to take in software development. Quality Assurance (QA) is a popular choice for developers looking to specialize in quality and reliability. It's also common for…