IT job in Nepal: "We want team members to look forward to Mondays"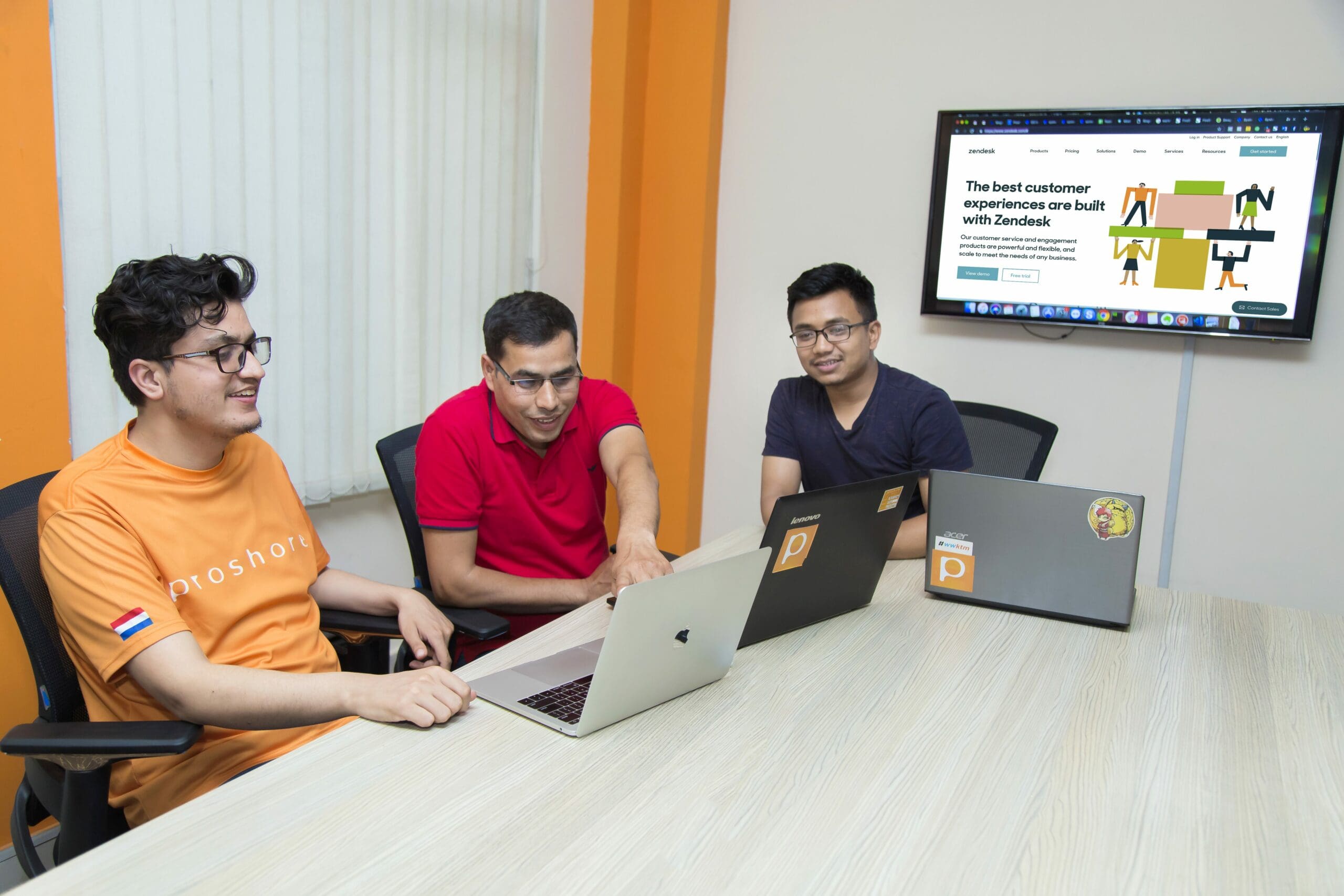 IT job in Nepal: "We want team members to look forward to Mondays"
" Proshore provide an open culture and flexible working environment, where the team doesn't have to worry about 'nine to five'. They believe if you love your work then you don't have to work a single day"
In this interview, Prakash Bhusal (Operations Manager) and Babish Shrestha (Head of Engineering) scoop us more about IT company Proshore and its culture. It is possible to work from home now and then, but Prakash and Babish want to make the office attractive to work:
"Proshore is a fun working environment, we know that if a company is not flexible and puts too much pressure on team members, it is not productive. So we make it fun and work flexible, so people don't hate Mondays. We want them to prefer collaborating at the office as it builds more cohesiveness between the team"
What do you look for when you hire an IT employee?
We encourage people to challenge themselves, make them competitive. There should always be a match between a company and individuals vision. We work with Agile philosophy so we look that in an individual as well. We are not focused only on output but look at individuals way of identifying the problems and decision making for the solutions. The solution does not always have to be done in a complex way.
To make our team members love their work, we try to help them work smart and not too many hours. At the end of the day, it's about the value that we are trying to provide to our team members and customers.
When we hire, we especially look at their skill set: what can they offer that our customers need. This does not have to be only technical skill set. Communication skill is equally important

-Prakash Bhusal, Operations Manager at Proshore
How is Proshore different from other IT companies in Nepal?
Compared to other IT companies in Nepal, I think we are moving more into the direction of attractiveness, that people want to work with us. We try to learn from team members, within the borders of our own strategy. This is also important for our customers, the price is less important than quality for them. This helps people grow, other IT companies have flexible working hours, but with restrictions that we don't have. We don't believe in overtime and most of the time try to avoid it. We don't ask people why they are late, as long as they work their project hours.
We have an open office culture, there are no departments and not many closed rooms. We are very focused to create a learning environment for the people. For that, we encourage every member to learn from other people who are working on a different project. In this way, everyone can communicate and collaborate and can discuss with each other.
People who work together on a project, sit with each other. Each individual is their own boss. They are giving a clear set of goals and strive for that.
We know salaries are important so we pay on time 🙂. We have our reviews on time. We don't provide project bonuses but more of an organization bonuses since we believe its collaborative effort of every team member. We even have marital leave, maternity leave, paternity leave and more and in addition, there is also leave encashment. Intangible benefits are usually no problem, for instance, we don't expect our team members to work on weekends. Breakfast and lunch are provided so they don't have to work empty stomach 😊. We are also very flexible in providing casual leave. At the end of the day it is important that our team members are happy. Especially if you notice that a certain day off is important for this person.
"We want people to learn and be challenged, we help them with their career and offer them the latest technology. We don't force people to use any specific language set but give them room for suggestions before making a decision through collaboration"

– Babish Shrestha, Head of Engineering at Proshore
Do you have extra activities for team-members?
We also organize events for our team, like picnics and annual night stay on our anniversary. A break is very important to be productive in the afternoon. So, during our lunch breaks, we do other stuff together, like watching an episode of Game of Thrones or tea gossip. We all play futsal every Wednesday. But you can also play FIFA or Counter-strike. It all makes a lot of sounds 😅, but only during lunchtime. I even wanted to bring a Snooker table.
We also go rafting together, or hiking or cricket or other indoor games. We never force team members to do work the whole day. Especially at the end of the day, people like to do an office game like table tennis.
Why should IT employees work at Proshore?
When I talk to the IT people about Proshore, I mention that they work with very technical projects for very interesting customers. The cost pressure is much lower, we don't bid to IT projects as many companies do. The customers of Proshore are the end customers with whom we work ourselves, they tell us about the company problems that we have to solve. So we can really advise them about the best platform. Most IT companies in Nepal fail because they are started by people that go for a low price and low cost.
All of our customers are from the Netherlands, which makes making IT choices easier. The way the Dutch market works can be very different than other cultures. The IT market is however large enough in the Netherlands, so there is enough work for us. We still need new people!
---
With the modern world, the working culture is gradually changing in all work-space. The companies are slowly rising over restrictions for their smooth flow. People are no longer bound to their work-space. Applying pressure on work is not fruitful for this generation. Inspiration and motivation yield a positive output. With the age of learning and sharing, it's essential for any work-space to have a learning and collaborative environment.
At last, we think we are still learning. Workplace culture is very important and our every action are focused towards making it better. We know sometimes it works and sometimes does not but you learn and make changes accordingly.
What it's like being a QA Automation Engineer
There are many career paths to take in software development. Quality Assurance (QA) is a popular choice for developers looking to specialize in quality and reliability. It's also common for…